Testimonials
"I'd just like to let you know that I'm very happy with the quality of all of the products I've purchased from yous"
About Vimala Foods Products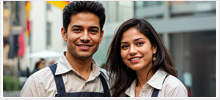 Vimala Food Products is a professional business house engaged in organic agro commodities business.We started our business in the year 2001, and since then our company has witnessed constant growth in terms of sales and customer satisfaction. Today also, we continuously strive for that.We, at Vimala Foods, are working towards production of finest quality organic grains, pulses, oilseeds, spices, sugar and herbs.
Our head office is based out of Indore, the commercial hub of Central India. Our strategically located head office provides us ease of logistics and travels across India.We have a team of professional people with who belive in company's saying – "Quality in Everything we do".